Blogroll

Disclaimer: A Link Doesn't Mean an Automatic Endorsement of the Ideas Contained In It!
Before It's News | People Powered News
Archives

Just another blog, created on the spur of the moment; may or may not contain earth-shattering epiphanies, boring personal observations, or various and sundry trivialities...

...oh, and once in a while, some politics...
Saturday, May 07, 2005
Like old TV show theme songs?
I stumbled across this site this morning while drinking my much-needed cup of coffee, and thought it was exceedingly cool. Although I would rank some of those in the 75-100 range MUCH higher!
Friday, May 06, 2005
Dad
My dad passed away suddenly on April 25; he was a good man who loved us, his family. We had our ups and downs like all of us. These pictures tell a little story of his life...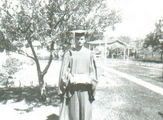 In the lower right picture, Dad is second from the left.
Thanks, Dad, for being a terrific role model, showing, by your actions, how to live a good life.
The Olduvai Theory (Back to the Ancient Future)