Blogroll

Disclaimer: A Link Doesn't Mean an Automatic Endorsement of the Ideas Contained In It!
Before It's News | People Powered News
Archives

Just another blog, created on the spur of the moment; may or may not contain earth-shattering epiphanies, boring personal observations, or various and sundry trivialities...

...oh, and once in a while, some politics...
Thursday, April 28, 2005
Another Fiasco of a News Conference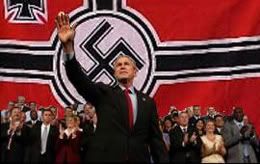 Photo courtesy of a TRUE pro-democracy
website.
Comments:
Hello,
---
www.blogladder.com
---
You are invited to join blogladder.com. There are dozens of color themes to choose from at the bottom of the home page. You will get lots of comments on your blog because it's a community blogging site. There's a blog ladder, an entry ladder and you can build your own blog ladder.
Have a great day!
Post a Comment